Bar Grating
Any regularly spaced group of nearly identical, parallel, elongated components is called grating. Bar grating is made to support large loads with little weight. Bar gratings are made of bearing bars and cross bars. The bearing bar is the main load-bearing bar that runs in the same direction as the span. The cross bars are connectors that cross or pass through the bearing bars and are formed of strip or roll bars. Cross bars can be mechanically locked, forged, or welded. Grating is often made from steel, aluminum, and fiberglass, to name a few. Read More…
Bar Grating
Bar grating is the term given to a series of metal bars or gratings that have been welded, swaged, pressure locked or riveted together.
Types of Bar Grating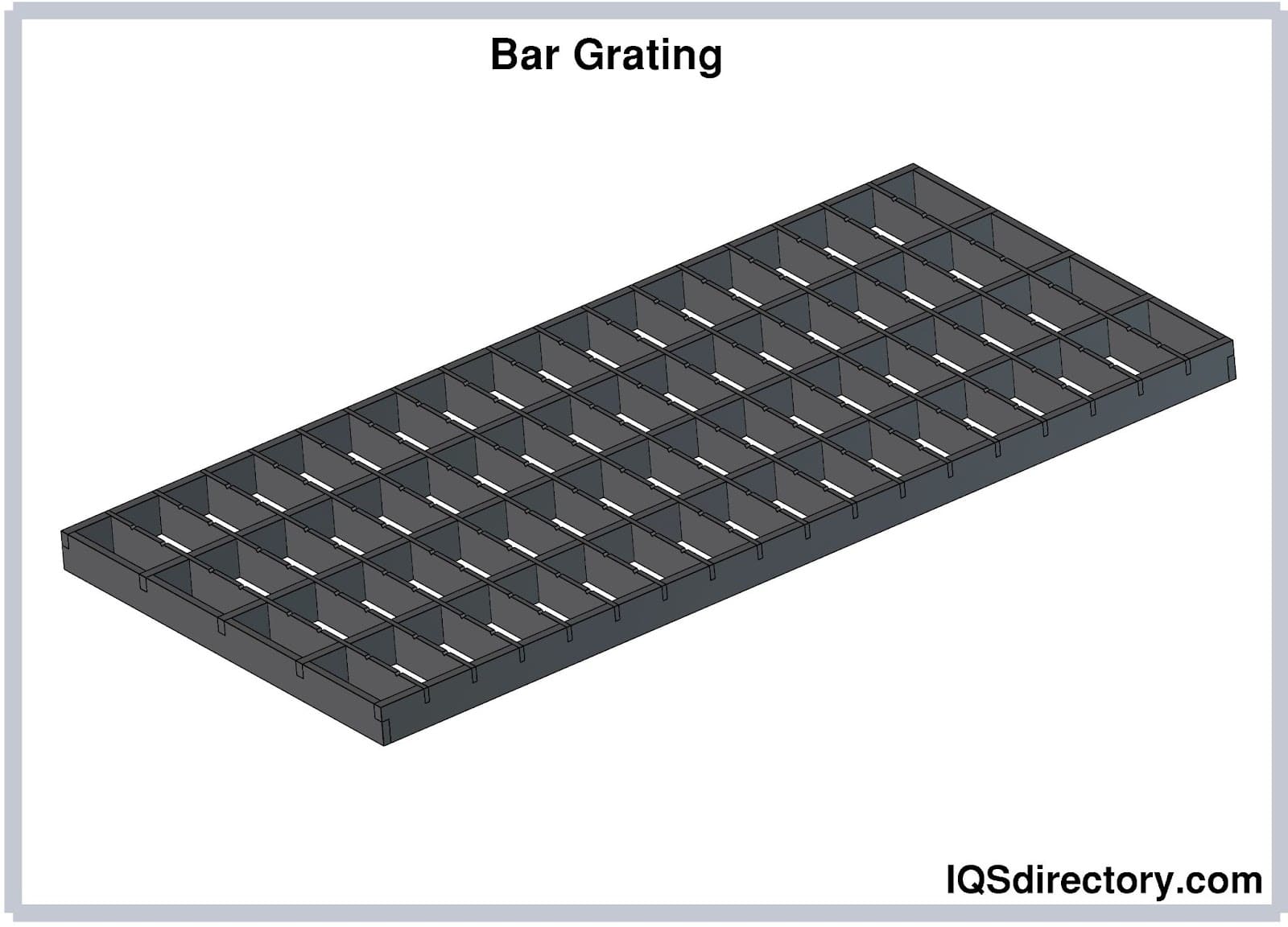 Welded
For most industrial applications, welded bar grating is a practical and affordable solution. Drawn cross bars and rectangular bearing bars are forged together to create a fused, long-lasting connection to weather harsh conditions. Welded steel grating is non-slip, corrosion-resistant, has good drainage, and can support heavy weight.
Press-locked
Press-locked grating is created by using immense hydraulic pressure to lock crossbars into notched bearing bars permanently. This glues the close-tolerance slotted bars together. Notching and pressing the cross and bearing bars together creates a smooth, uniform surface. This method creates an attractive appearance that blends well with architectural plans. Press-locked metal bar grating is available in many sizes, materials, and bar apertures.
Swage Locked Bar Grating
Swage locked bar grating features tube cross bars inserted into bearing bars with pre-punched holes. Afterward, a swaging reshaping procedure will permanently secure the crossbars. Swage-locked bar grating has clear lines and a distinctive appearance because the cross bars are recessed below the top surface of the bearing bars. In addition, contemporary swaging technology can add attached intersections.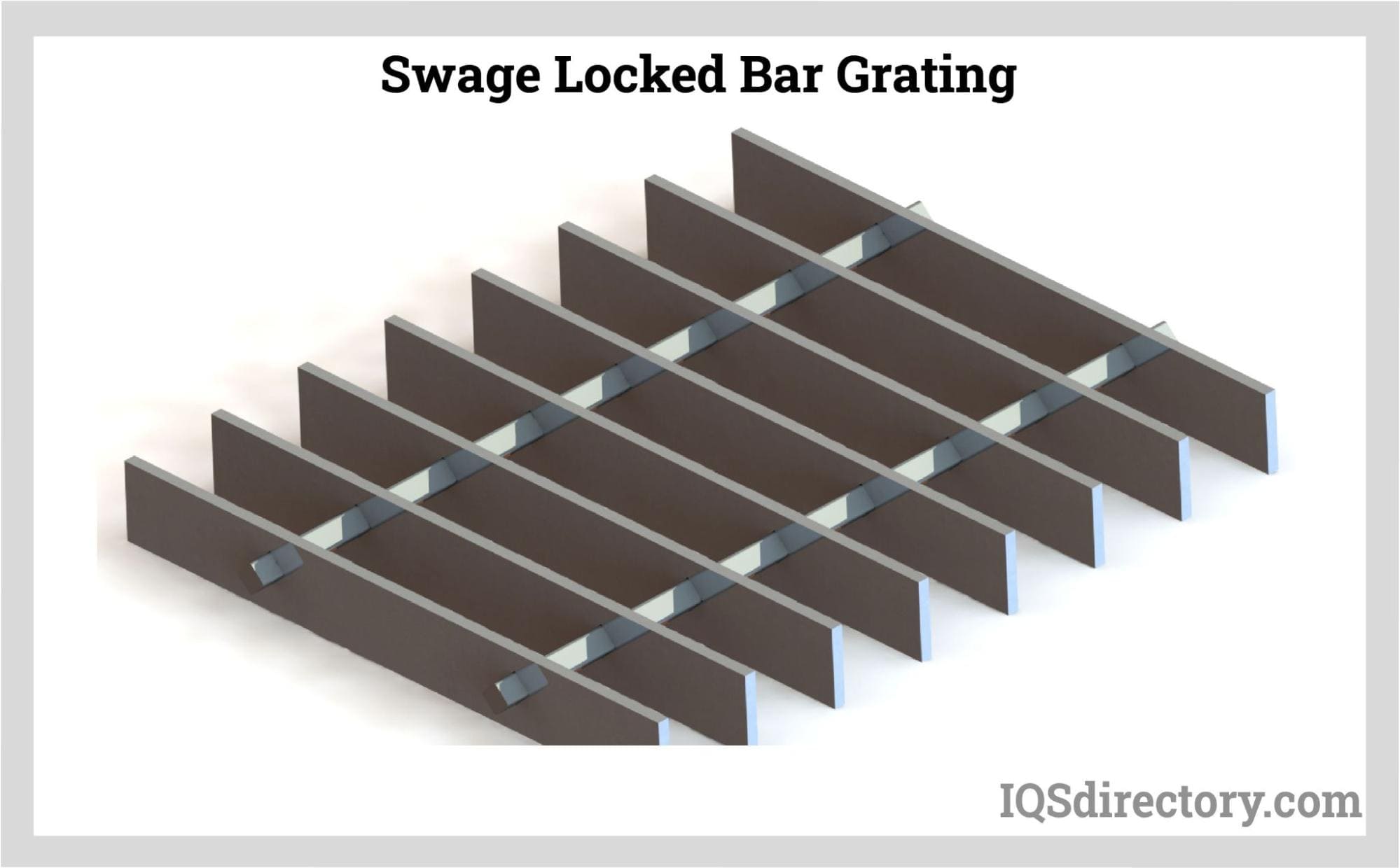 Serrated Surface
Serrated surface bar gratings have a jagged edge, like a saw. Serrated surfaces may be the best choice if the grating is used in wet or slippery environments. The serrated grating requires a thicker bearing bar depth to maintain a strength comparable to non-serrated gratings.
Riveted Bar Grating
Riveted gratings can be made of stainless steel, aluminum, and carbon steel. The bearing bars are evenly spaced with a riveted area in the middle. The riveted grating is the best option if the grating has to support heavier weights. Reticulated bars are riveted to bearing bars, creating the strength to endure rolling traffic from vehicles. Riveted bar gratings offer a higher load-carrying capacity than a welded bar or swage-locked grating.
Applications and Benefits of Bar Grating
Bar grating fencing is attractive, strong and rigid enough to offer a high level of security. Bar grating is ideal for security purposes.
Gratings often compose the floors and walkways of commercial and industrial buildings where there may be liquid or waste. A floor grating's higher tread enhances safety by avoiding water accumulation or slippery surfaces.
Bar gratings often create ramps and carry vehicles and other large objects onto elevated platforms. On mobile and fixed loading ramps, bearing bars are oriented in the direction of the traffic flow. The serrated grating provides traction.
Bar grating creates the running boards, brake stairs, platforms, and walkways installed in freight cars, locomotives, and railcars. The grating lowers the risk of falling with cleverly designed mesh serrated bar grating.
Ventilation grates generate airflow using a unique aeration system. They integrate affordability, stability, and functionality into a single component. Ventilation gratings are particularly useful in the agricultural sector. They are ideal for the ventilated storage of dry bulk products.
Bar grating can provide a distinctive, modern style for architectural highlights and be used as security barriers for equipment protection and highway guardrails. Aluminum bar grating has a strong strength-to-weight ratio, is lightweight, and is long-lasting. Aluminum bar grating is easy to install and transport, not to mention corrosion-resistant and easy to maintain.
Choosing the Right Bar Grating Manufacturer
To ensure you have the most beneficial outcome when purchasing bar gratings from a bar grating manufacturer, it is important to compare several companies using our directory of bar grating manufacturers. Each bar grating manufacturer has a business profile page highlighting their areas of experience and capabilities, along with a contact form to directly communicate with the manufacturer for more information or request a quote. Review each bar grating business website using our patented website previewer to quickly learn what each company specializes in. Then, use our simple RFQ form to communicate with multiple bar grating businesses with the same form.
Bar Grating Informational Video