Drain gates work to safeguard a drainage system while helping to achieve optimum drainage performance by preventing waste from obstructing a drain. They prevent landscape drainage issues by enabling an underground drain line to properly channel runoff water to the correct spot. As a drainage system filter, drain gates work to gather, move, and release excess rainwater, or possibly-contaminated surface water, from an area in order to help protect people and property. Read More…
Drain Grates
Drain grates are an essential component of drainage systems that allow the passage of fluids through a pipe or drain while capturing debris which may clog or otherwise damage piping.
What are Catch Basins?
Drain grates can be put directly on top of the drain riser pipe on occasion, but more frequently they open onto a catch basin that is installed below ground level right beneath the grate. The catch basin is a device that gathers and holds runoff water before it enters the drain line after it has passed through the grate. Utilizing a grate and catch basin together has the benefit of making it easier to clear the catch basin of additional, smaller debris than a drain line that is only covered by a grate.
Types of Drain Grate Materials
Drain grates are made of different materials depending on the area of application, cost, and the design. Some of the materials used to make drain grates include plastic, cast iron, ductile iron, stainless steel, galvanized steel and brass.
Trench Drains and French Drains
A trench, or channel, drain is one that is embedded into the ground in order to transport water through an underground chamber as part of a greater drainage system. Typically, they are long, skinny, and look like gutters set into the ground. They have their openings along their tops.
French drains, meanwhile, are long drains built underground and are designed to capture trapped water from the surrounding ground and surface through the holes along their sides. French drains are built surrounded with gravel around their openings in order to sieve out materials from the water that may flow into them.
Trench Grates
A trench drainage system is an extended drainage system that is buried in the ground and covered with a grate for drainage. These grates are used around paved areas like patios, driveways, and swimming pools where more-effective drainage is typically needed since they can manage more runoff water than traditional yard drains. The three most common varieties of trench grates seen are regular, heel-proof, and decorative trench drain grates. Regular trench grates are a good option in places with a lot of clay because they have broader apertures, efficiently manage medium water flow, and have strong hydraulic capacity. Heel-proof trench grates are ideal for areas with very little water flow and have extremely-small apertures in order to prevent heels from getting caught, while also providing additional safety for cane users. The styles of decorative trench grates and the rates of water flow they handle differ. These grates are created with aesthetics in mind while still properly serving their function.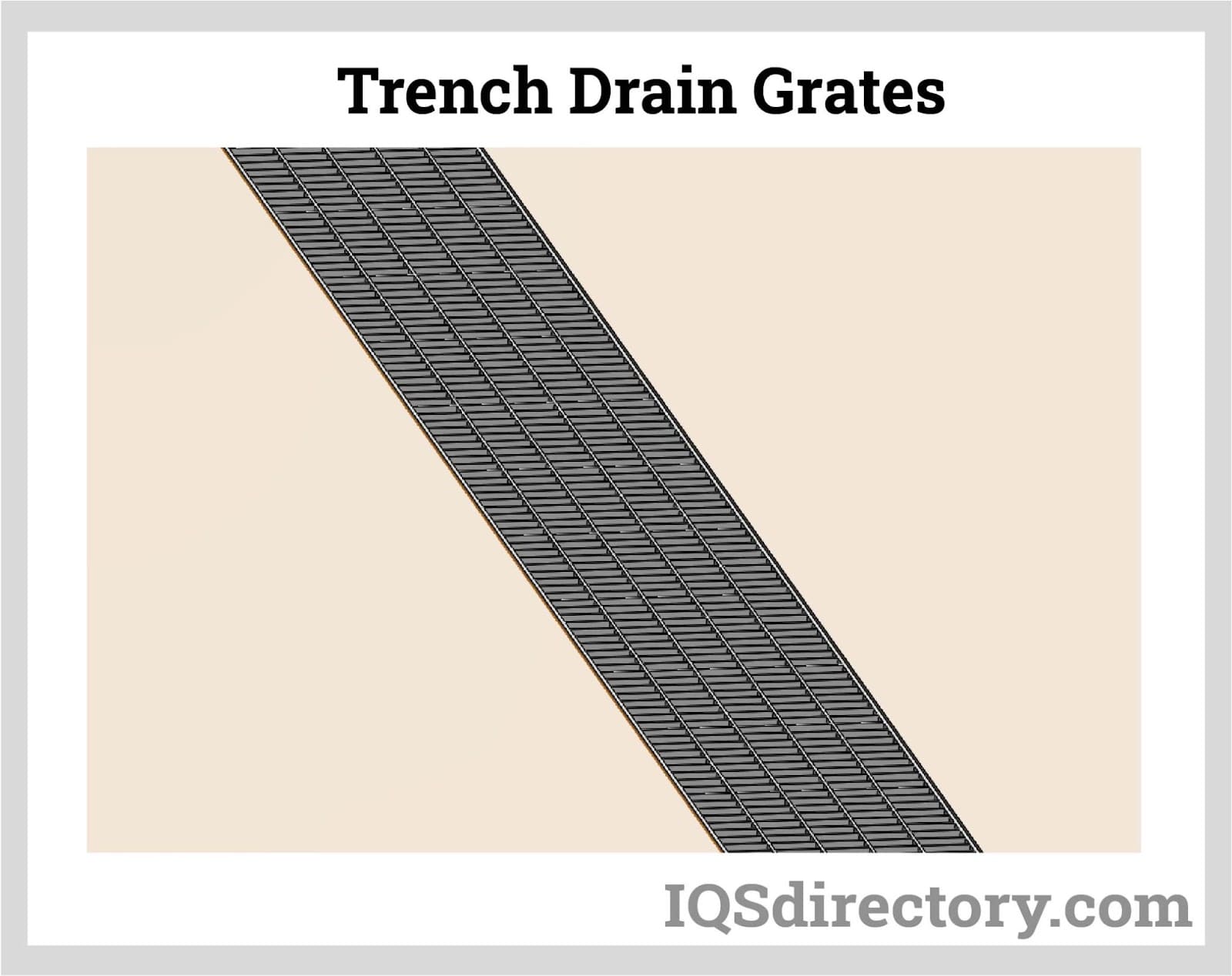 Rectangular and Round Grates
When choosing the right size for a grate, a landscaper should consider the size of the area that will be drained and how much water generally needs to be drained from an area. They should also consider that the size of the grate will also dictate how much water can flow through a drainage system at any given time. Typically, simple flat rectangular or round grates, which may range in size up to thirty centimeters (nearly a foot) wide, are frequently used to cover landscape drains.
Atrium Grates
Atrium grates are utilized in locations where trash or leaves could wash into the drain and block the grate. They are a bell or bowl-shaped grate that stands on top of the drain and rises above the ground. Even if trash builds up around the grate's base, water can still pass through the grate and down the drain by flowing over the top of any accumulated trash.
Applications and Benefits
Rectangular drain gates are used on the roadsides in urban areas to direct water into drainage systems while preventing garbage from entering the drainage system. They protect the roads, as well as the drainage system, from blockages.
Atrium drain grates can be used in backyards to prevent unwanted water, and the potential hazards being carried by it, from accumulating into in-ground pools.
Most frequently, trench drains are used in residential settings around the borders of driveways or sidewalks. They are useful for keeping water from collecting in the low area of sloping driveways. They are essential for avoiding flood damage and water intrusion for homes with foundations set below ground level.
Drain grates are frequently used for public spaces, and they are created to blend in smoothly with the surrounding hardscape. They are selected based on their ability to avoid creating risks for people with disabilities, such as uneven surfaces that could trip someone or obstruct a wheelchair.
They are used by businesses like spas, restaurants, food- processing facilities, barns, and car washes to transport water away from areas that get continually wet. They are also employed in workspaces requiring constant cleaning and areas with public restrooms.
Selecting the Correct Drain Gate Supplier
To ensure you have the most beneficial outcome when purchasing drain gates from a drain gate supplier, it is important to compare several companies using our directory of drain gate suppliers. Each drain gate supplier has a business profile page highlighting their areas of experience and capabilities, along with a contact form to directly communicate with the supplier for more information or request a quote. Review each drain gate business website using our proprietary website previewer to quickly learn what each business specializes in. Then, use our simple RFQ form to contact multiple drain gate companies with the same form.
Drain Grates Informational Video